Join this Nationwide Event happening here in Oak Park. Your OPUSD Outreach Committee has partnered with Big Sunday for a second year. Big Sunday is a day to give back to your community by volunteering your time and a little elbow grease to much needed projects at our schools, on our streets and within our hiking trails. Just give 4 hours of your time on a beautiful Sunday morning (8:00 am - Noon) and you will receive breakfast, water, tools, and an opportunity to meet your neighbors. All ages and abilities are welcome.
Please Note: On-line Registration will close at midnight on May 2nd.
Check here later to access the Registration Form
Big Sunday! An Amazing Success!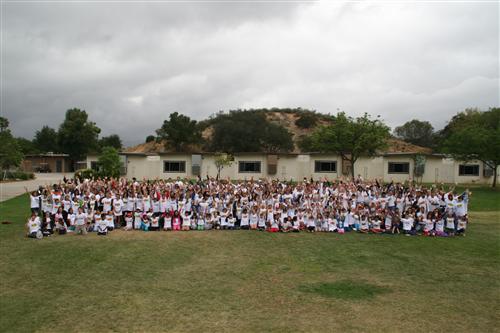 The OPUSD Community Outreach Committee would like to thank the over 440 Volunteers who came together on a chilly Sunday morning to complete much needed projects throughout our community.
The over 40 projects included: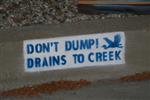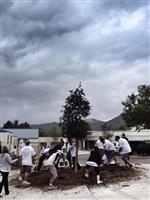 269 "Drains to the Ocean" painted on behalf of Ventura County. 3 Hiking Trails covered by 30+ volunteers: Rancho Simi Parks and Recreation Department asked for help to cleanup trails.
3 trees, 92 bushes and various annuals were planted at 4 local schools.
833 feet of Red Curbs and 184 feet of White Curbs.
Gate built, installed and stained for an Oak Park Senior Citizen.
Dirt and mulch was shoveled, trucked and dispersed to gardens, walkways and planters at all 5 schools.
In addition, Students, Families, & Neighbors donated…
Over 600 cards, letters and pictures saying thank you to our Armed Forces and donated to Operation Gratitude, 750 Books for the Oak Park Library, 100 Soccer Balls/gear, 2 boxes of food for the Ventura Rescue Mission, 1 box of pillow cases for The Red Cross Club, 1 box of socks for the Grossman Burn Center Club, 1 box of school supplies/DVD's for Support for the Kids organization, Monetary Donations for the American Cancer Society, Make a Wish Foundation and the Ventura Rescue Mission.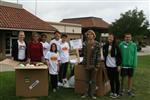 Rancho Simi Parks and Recreation Department graciously donated a new bench, which was cemented in place at the entrance to the Oak Park Community Center and dedicated to Big Sunday!