Crisis Hotlines, Drug/Alcohol & Community Mental Health Resources
---
ENGAGE TREATMENT PROGRAMS:

Engage Treatment Programs supports local teens and young adults in the community, helping them learn the skills and tools necessary in order to live a more healthy and satisfying the life. Engage clients enter our programs seeking guidance at one of the most difficult or challenging times in their lives. Our clients leave not only with the necessary tools to make their goals as a reality, but with hope for a bright future to Fully ENGAGE in life.

http://engagetreatmentprograms.com/
JUST THINK TWICE:

This is a DEA sponsored website with comprehenisve, and current drug information.

http://justthinktwice.com/
MONTANA METH PROJECT: Montana Meth Project is a large-scale prevention program aimed at significantly reducing first-time meth use through public service messaging, public policy, and community outreach. www.montanameth.org/
NATIONAL INSTITUTE ON DRUG ABUSE (NIDA): http://www.drugabuse.gov/
STRYVE is a national initiative, led by the Centers for Disease Control and Prevention (CDC), which takes a public health approach to preventing youth violence before it starts. To support this effort, STRYVE Online provides communities with the knowledge and resources to be successful in preventing youth violence. http://www.safeyouth.gov/Pages/Home.aspx
(SAMHSA) Substance Abuse & Mental Health Services Administration: http://www.samhsa.gov/
TRANSITIONS SUPPORT GROUP aims to support families with older children and young adults (aged 11-28) and young adults aged 16-28 who are transitioning into middle school, into high school, into college, post secondary or the workforce. Discussion focuses on planning for and transitioning through adulthood, including school, work, social, behavior, life skills, community integration and services and topics suggested by the participants. http://www.pause4kids.com/transitions.php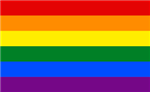 ---

Click here to view: "Blades of Grass" A Suicide Awarness PSA from Oak Park High School
About Suicide

LOS ANGELES COUNTY SUICIDE PREVENTION PROJECT: For comprehensive resources on suicide prevention and response, please see the Prevention Project website at the following web address:

http://preventsuicide.lacoe.edu

SUICIDE IS PREVENTABLE is a statewide suicide prevention social marketing campaign built on three key messages: Know the signs. Find the words. Reach out. This campaign is intended to educate Californians how to recognize the warning signs of suicide, how to find the words to have a direct conversation with someone in crisis and where to find professional help and resources. For more information go to: http://www.suicideispreventable.org

/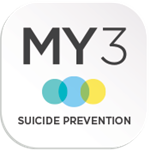 MY3 LETS YOU STAY CONNECTED WHEN YOU ARE HAVING THOUGHTS OF SUICIDE
With MY3, you define your network and your plan to stay safe. With MY3 you can be prepared to help yourself and reach out to others when you are having thoughts of suicide. The App is downloadable from the Apple Store, and Google Play. To access the website go to:
http://www.my3app.org/
---
2-1-1
provides
callers with information about and referrals to human services for every day needs and in times of crisis. For example
, 2-1-1
can offer access to the following types of services:
Basic Human Needs Resource: food banks, clothing closets, shelters, rent assistance, utility assistance.
Physical and Mental Health Resources: health insurance programs, Medicaid and Medicare, maternal health, Children's Health Insurance Program, medical information lines, crisis intervention services, support groups, counseling, drug and alcohol intervention and rehabilitation.
Employment Supports: financial assistance, job training, transportation assistance, education programs.
Support for Children, Youth and Families: childcare, after school programs, Head Start, family resource centers, summer camps and recreation programs, mentoring, tutoring, protective services.
Volunteer Opportunities and Donations.
For more information you can also go to their website:
www.211.org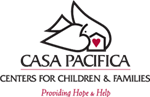 (CIRT) Children's Intensive Response Team: CIRT is for Crisis Calls Only. The Children's Intensive Response Team (CIRT) is a mobile crisis response service available to all Ventura County children and youth through the age of 21. CIRT is available 24 hours a day, seven days a week, 365 days a year. CIRT delivers quick and accessible service to families by providing specialized crisis intervention and in-home support and linkage to county mental health services.
(CALL: 1-866-431-2478) or for more information go to:

Covenant House Nineline:
Crisis intervention hotline & website. Counselors available 24hrs per day for crisis assistance of any kind call
1-800-999-9999
or go to:
http://www.covenanthouse.org/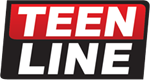 TEEN LINE
is a confidential telephone helpline for teenaged callers. It operates every evening from 6:00pm to 10:00pm PST and is toll-free from anywhere in California. If you have a problem or just want to talk with another teen who understands, then this is the right place for you! You can call us at 800-852-8336 and even text us by texting
"TEEN"
to
839863.
TEEN LINE also offers message boards, resources and information :
http://teenlineonline.org/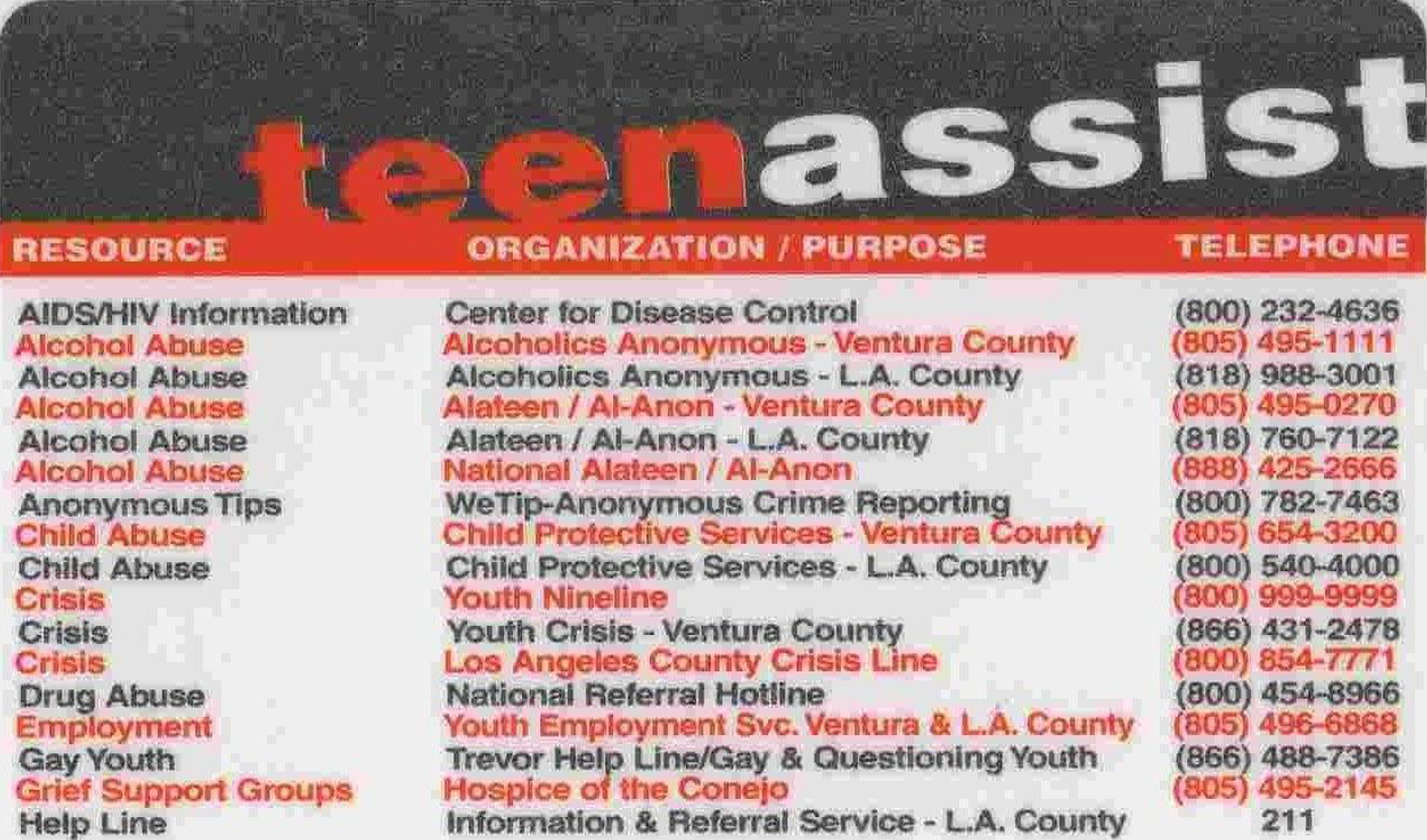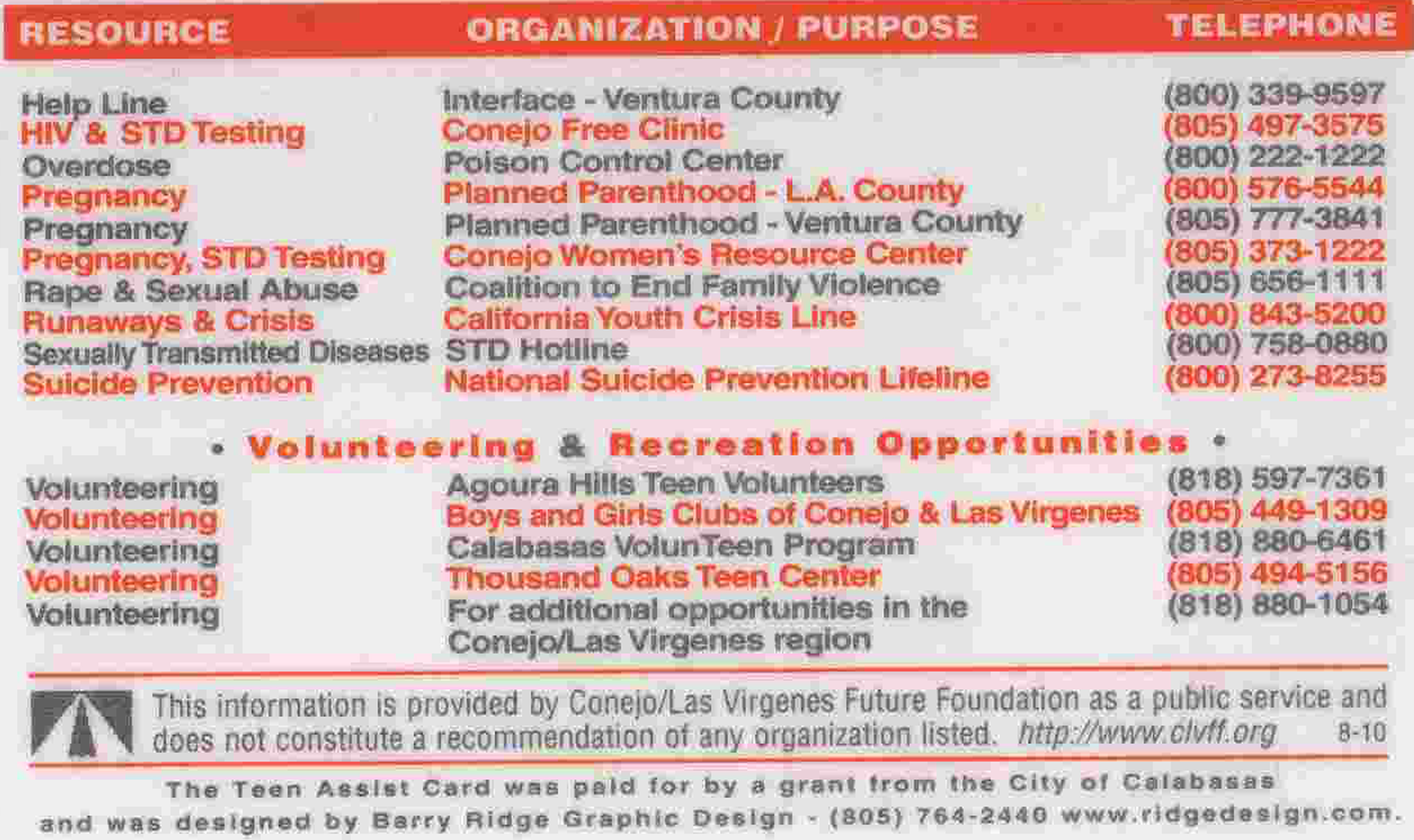 ---

Reality Parties for Parents
Recently, Oak Park High School's PFC, along with Straight Up Ventura County, sponsored a
Reality Party
. Reality Parties for Parents increase awareness and understanding of the dangerous culture of local teen drinking parties. If you haven't attended a Reality Party yet, take a few minutes to watch the three-minute promo video created by Straight Up Youth. You can also see two local news segments about these events. Visit the Straight Up You Tube channel where six video pieces by or about Straight Up are available. Note that two Oak Park students participated in a recent Reality Party and are prominent in the video.
http://youtube.com/straightupvc

Straight Up Ventura County
Straight Up is a youth development project that promotes social change regarding underage and binge drinking among 15 to 25 year olds in Ventura County using improvisation and interactive performance/workshops with engaging discussion, exploration of issues, and the development of personal and community solutions to these problems. Straight Up is a project of Ventura County Limits, and is made possible through funding from the Ventura County Behavioral Health Department Alcohol and Drug Prevention Division.
---
Ventura County Limits
Ventura County is embarking on a bold new countywide initiative to reduce underage and binge drinking. This is in response to growing public concern over the impact of alcohol on the lives of young people, and the alarming rates of binge-level drinking in the 15 to 25 age group in Ventura County. Learn more about this Community Partnership for Responsible Alcohol Policies & Practices.
For more information go to: www.venturacountylimits.org