HOTLINES, DRUG, ALCOHOL & MENTAL HEALTH RESOURCES
---
---
CRISIS HOTLINES & OTHER RESOURCES

2-1-1 provides callers with information about and referrals to human services for every day needs and in times of crisis. For example, 2-1-1 can offer access to the following types of services:
Basic Human Needs Resource: food banks, clothing closets, shelters, rent assistance, utility assistance.
Physical and Mental Health Resources: health insurance programs, Medicaid and Medicare, maternal health, Children's Health Insurance Program, medical information lines, crisis intervention services, support groups, counseling, drug and alcohol intervention and rehabilitation.
Employment Supports: financial assistance, job training, transportation assistance, education programs.
Support for Children, Youth and Families: childcare, after school programs, Head Start, family resource centers, summer camps and recreation programs, mentoring, tutoring, protective services.
Volunteer Opportunities and Donations.
For more information you can also go to their website:
www.211.org
---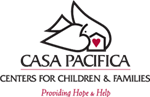 (CIRT) Children's Intensive Response Team: CIRT is for Crisis Calls Only. The Children's Intensive Response Team (CIRT) is a mobile crisis response service available to all Ventura County children and youth through the age of 21. CIRT is available 24 hours a day, seven days a week, 365 days a year. CIRT delivers quick and accessible service to families by providing specialized crisis intervention and in-home support and linkage to county mental health services.
(CALL: 1-866-431-2478) or for more information go to:
---
KNOW THE SIGNS
"Suicide Is Preventable"
website
is a statewide suicide prevention social marketing campaign built on three key messages: Know the signs. Find the words. Reach out. This campaign is intended to educate Californians how to recognize the warning signs of suicide, how to find the words to have a direct conversation with someone in crisis and where to find professional help and resources. For more information go to:
http://www.suicideispreventable.org/
---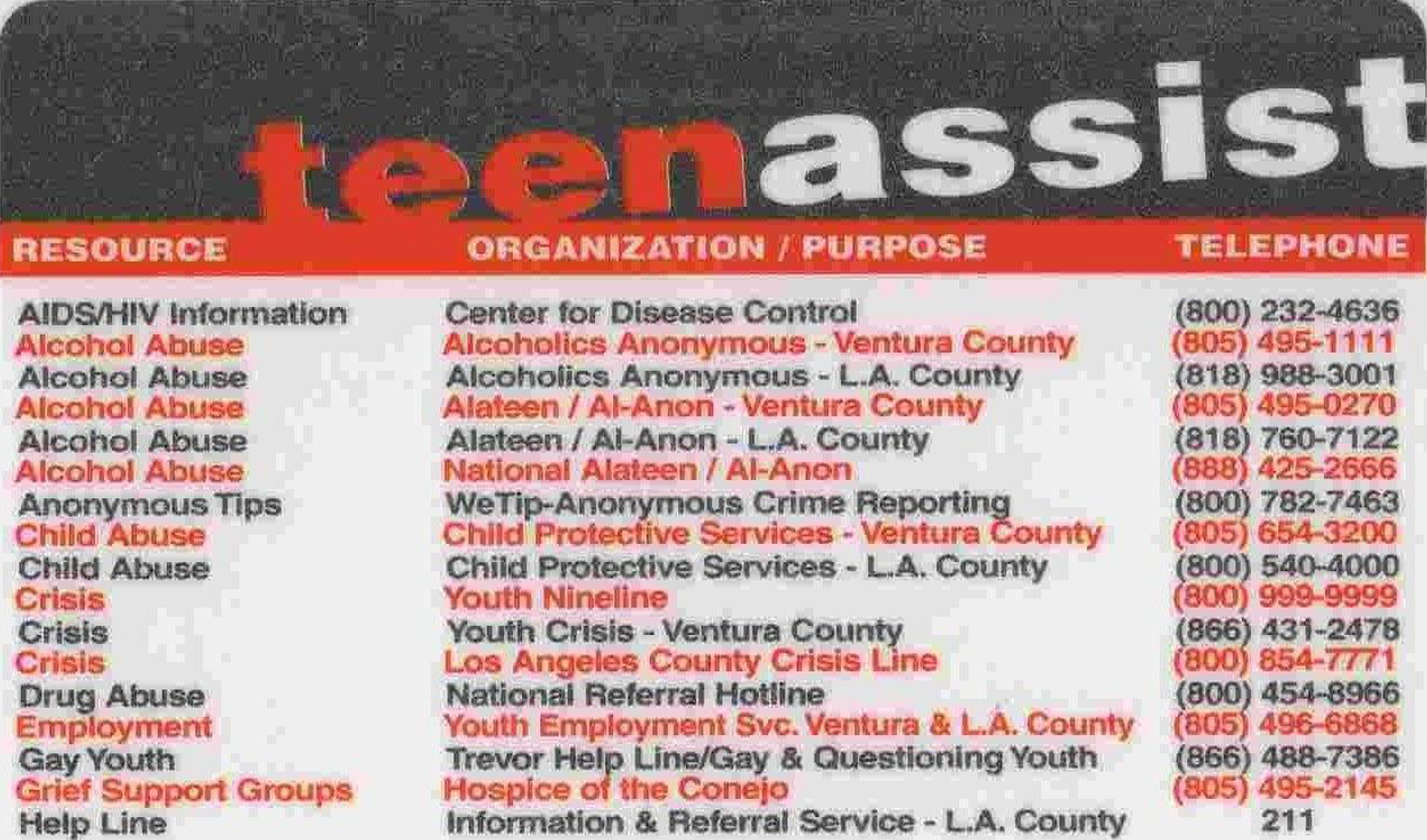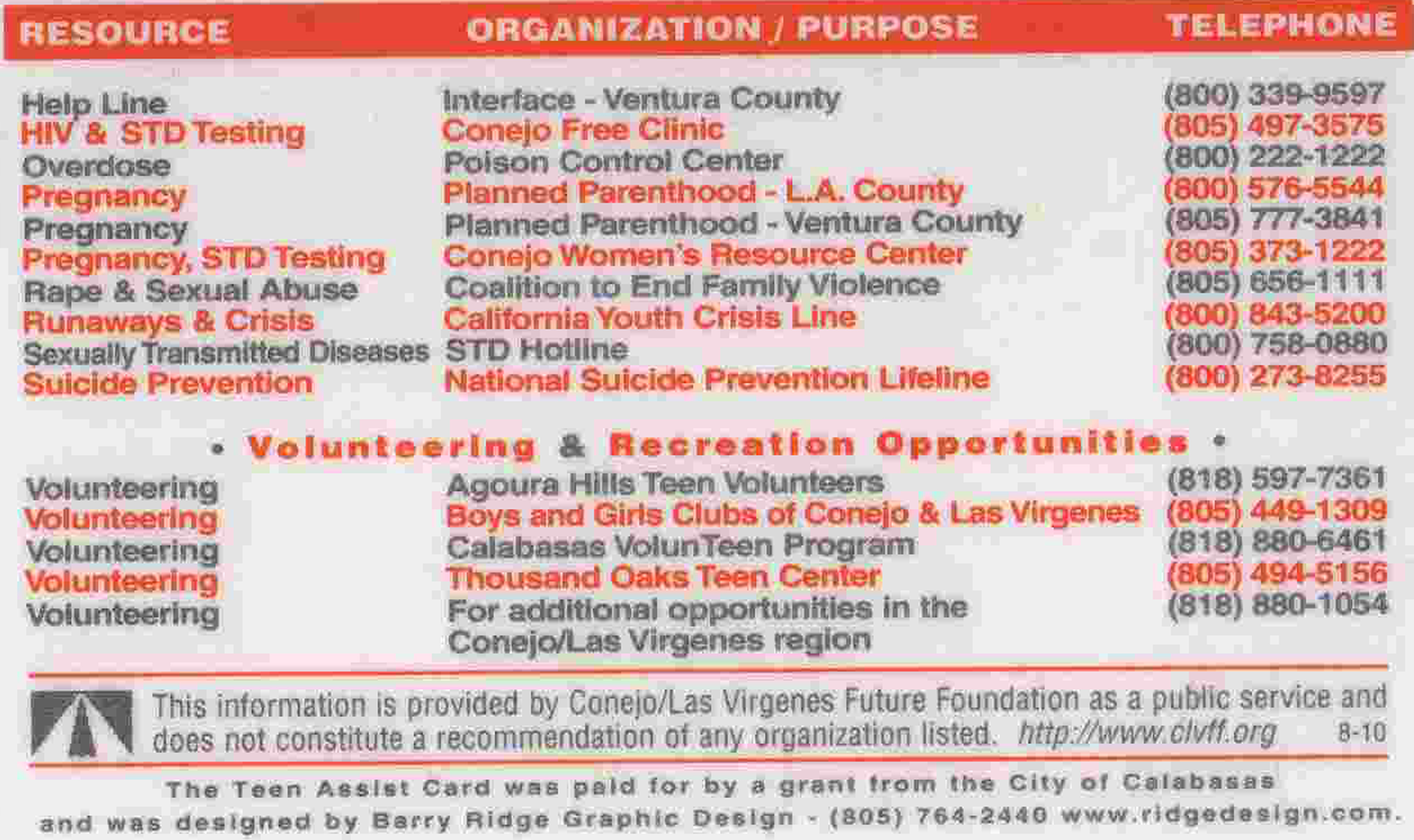 ---
" ALCOPOPS"
Alcoholic Energy Drinks – New Fuel to the Underage Drinking Epidemic
Look Closely, Labels are Similar to Regular Energy Drinks!
"Alcopops", according to Chris Albrecht of the state's Alcoholic Beverage Control (ABC) office in Ventura County, is the new term that describes energy drinks mixed with alcohol. Their consumption by minors is a growing concern. Now being sold at local grocery and convenience stores in Ventura County, these alcoholic beverages are often placed near the traditional (non-alcoholic) energy drinks. Worse, they often feature similar packaging and are marked as alcohol only by small phrases on the label such as "malt beverage" or "alc/vol." This is a serious matter. Imagine a worker on a lunch break or a college student dashing into a store to buy an energy drink to get him or her "through" the afternoon. If they purchase one of these poorly labeled energy drinks that contain alcohol and take a big swig on their way back to the car, they will now be driving impaired. Now think about your child, knowingly or unknowingly purchasing one of these energy drinks and the effect it might have on his/her daily activities. The result could be devastating. Your child could be in the classroom, driving, or playing sports while impaired. What if the impaired child was not your child, but the one on the bottom row of a cheerleading pyramid, or working next to your child in wood shop, or handling chemicals in a group science lab activity? Think about it…
I questioned Mr. Albrecht about how we can prevent these drinks from being sold to our kids. He explained to me that the ABC Act has labeling requirements, but the labels are not always clear. Currently there is legislation in Sacramento requiring the labels of these drinks to more clearly identify the versions that contain alcohol. Energy drinks typically have names that appeal to kids and the alcoholic version is often sold on or near the same shelf as the non-alcoholic energy drink, making it easy to mistake one for the other. Take a quick glance at the photo below, can you discern the alcoholic drinks from the traditional energy drinks?
Technically you do have to be 21 years old to purchase these alcoholic beverages, but frankly, many store owners or clerks are not even aware that these "alcopops" contain high levels of alcohol, so the drinks are easily obtained by children and teens. A store owner or employee would be liable and sanctioned if they sold these drinks to underage consumers. The ABC has a "minor decoy program" which monitors the selling practices of alcohol by store owners. If you suspect a store owner is selling alcohol of any kind to teens, please call and report your suspicions to Mr. Albrecht at the Alcohol Beverage Control office at (805) 289-0002.
---
Helpful and Informative Websites on Underage Drinking
"Schools Use Breathalyzers to Fight Teen Drinking"
USA Today, October 16, 2007. A recent "call to action" effort against student
drinking:
www.usatoday.com/news/nation/2007-10-15-Breathalyzer_N.htm?csp=34&loc=interstitialskip
Teen Drinking Public Service Announcements (PSA)
featured online for parents. Click on any of the "Know About It" or "Talk About It" photos/topics.
Note: this link works best when viewed in Internet Explorer.
http://web.venturacountystar.com/special/2007/06/teendrinking/teendrinking.htm
l
---
Reality Parties for Parents
Recently, Oak Park High School's PFC, along with Straight Up Ventura County, sponsored a
Reality Party
. Reality Parties for Parents increase awareness and understanding of the dangerous culture of local teen drinking parties. If you haven't attended a Reality Party yet, take a few minutes to watch the three-minute promo video created by Straight Up Youth. You can also see two local news segments about these events. Visit the Straight Up You Tube channel where six video pieces by or about Straight Up are available. Note that two Oak Park students participated in a recent Reality Party and are prominent in the video.
http://youtube.com/straightupvc

Straight Up Ventura County
Straight Up is a youth development project that promotes social change regarding underage and binge drinking among 15 to 25 year olds in Ventura County using improvisation and interactive performance/workshops with engaging discussion, exploration of issues, and the development of personal and community solutions to these problems. Check it out.
Straight Up is a project of Ventura County Limits, and is made possible through funding from the Ventura County Behavioral Health Department Alcohol and Drug Prevention
Division.
To make a Reality Part reservation contact Katherine Boring at katherine@straightupvc.org
Visit us online at: www.straightupvc.org
2346 Wildcat Ave., Ventura, CA 93003
(805) 647-4622
Copyright 2007 by Straight Up Ventura County - All Rights Reserved.
---
Ventura County Limits
Ventura County is embarking on a bold new countywide initiative to reduce underage and binge drinking. This is in response to growing public concern over the impact of alcohol on the lives of young people, and the alarming rates of binge-level drinking in the 15 to 25 age group in Ventura County. Learn more about this Community Partnership for Responsible Alcohol Policies & Practices.
For more information go to: www.venturacountylimits.org