HOTLINES, DRUG, ALCOHOL & MENTAL HEALTH RESOURCES
Alcohol & Drug Informantion:

A National Clearinghouse for Drug & Alcohol Information sponsored by the Department of Health & Human Services & SAMSHA (Substance Abuse & Mental Health Services Administration):

http://ncadi.samhsa.gov/

(CHADD) CHILDREN & ADULTS WITH ATTENTION DEFICIT DISORDER:

http://www.chadd.org

or call 800-233-4050

COMMUNITY CONSCIENCE:

Thirteen Ventura County social services agencies can be accessed at this link. They include such groups such as the Conejo Free Clinic, Hospice of the Conejo Valley, Senior Concerns and Youth Employment Services. Three government social service agencies are also tenants including the Social Service Administration, Probation Youth Services and WIC Nutrition Program.

http://www.communityconscience.org/Agencies/tabid/513/Default.aspx
Covenant House Nineline:

Crisis intervention hotline & website. Counselors available 24hrs per day for crisis assistance of any kind.

call 1-800-999-9999 or go to:

http://www.covenanthouse.org/

DMV for Teens:

An informational website regarding the new driving laws for teens as well as a wealth of resources on driver education/training, insurance, financial responsibility, drug and alcohol use, effects and consequences; study materials etc...

http://www.dmv.ca.gov/teenweb/

Girls Empowerment Center: (GEC) is a small registered non profit organization devoted to empowering the development of girls in the Conejo Valley. The goal of this organization is to act as a buffer against societal influences and provide a safe and nurturing place for girls to mature. Call 805-341-5735 or:

http://www.girlsempowermentcenter.com/index.html

Just Think Twice: This is a DEA sponsored website with comprehenisve, and current drug information. http://justthinktwice.com/

Montana Meth Project:

Montana Meth Project is a large-scale prevention program aimed at significantly reducing first-time meth use through public service messaging, public policy, and community outreach.

www.montanameth.org/

NATIONAL INSTITUTE ON DRUG ABUSE (NIDA):

http://www.drugabuse.gov/

STRYVE

is a national initiative, led by the Centers for Disease Control and Prevention (CDC), which takes a public health approach to preventing youth violence before it starts. To support this effort, STRYVE Online provides communities with the knowledge and resources to be successful in preventing youth violence.

http://www.safeyouth.gov/Pages/Home.aspx

SUBSTANCE ABUSE & MENTAL HEALTH SERVICES ADMINISTRATION (SAMHSA):

http://www.samhsa.gov/

TEEN SCENE OUTPATIENT PROGRAM:

The goal of the Teen Scene Outpatient Program is to provide support and education to teens and their families in order to teach them the skills and tools necessary to battle addiction and family dysfunction. It is our vision to provide support services to help each family achieve and maintain a more functional family unit.

http://www.teensceneoutpatient.com/
Transitions Support Group aims to support families with older children and young adults (aged 11-28) and young adults aged 16-28 who are transitioning into middle school, into high school, into college, post secondary or the workforce. Discussion focuses on planning for and transitioning through adulthood, including school, work, social, behavior, life skills, community integration and services and topics suggested by the participants.

http://www.pause4kids.com/transitions.php

TIME TO TALK

:

Time To Talk is an online community, resource and toolkit to help parents connect with their kids and talk about drugs and other important topics.

www.timetotalk.org



VENTURA COUNTY "INTERFACE" HEALTH & HUMAN SERVICES ONLINE: an integrated component of the County Health Care system, to promote resiliency, recovery, and hope for their clients:

http://www.icfs.org/
---
CRISIS HOTLINES & OTHER RESOURCES

2-1-1 provides callers with information about and referrals to human services for every day needs and in times of crisis. For example, 2-1-1 can offer access to the following types of services:
Basic Human Needs Resource: food banks, clothing closets, shelters, rent assistance, utility assistance.
Physical and Mental Health Resources: health insurance programs, Medicaid and Medicare, maternal health, Children's Health Insurance Program, medical information lines, crisis intervention services, support groups, counseling, drug and alcohol intervention and rehabilitation.
Employment Supports: financial assistance, job training, transportation assistance, education programs.
Support for Children, Youth and Families: childcare, after school programs, Head Start, family resource centers, summer camps and recreation programs, mentoring, tutoring, protective services.
Volunteer Opportunities and Donations.
For more information you can also go to their website:
www.211.org
---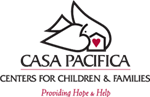 (CIRT) Children's Intensive Response Team: CIRT is for Crisis Calls Only. The Children's Intensive Response Team (CIRT) is a mobile crisis response service available to all Ventura County children and youth through the age of 21. CIRT is available 24 hours a day, seven days a week, 365 days a year. CIRT delivers quick and accessible service to families by providing specialized crisis intervention and in-home support and linkage to county mental health services.
(CALL: 1-866-431-2478) or for more information go to:
---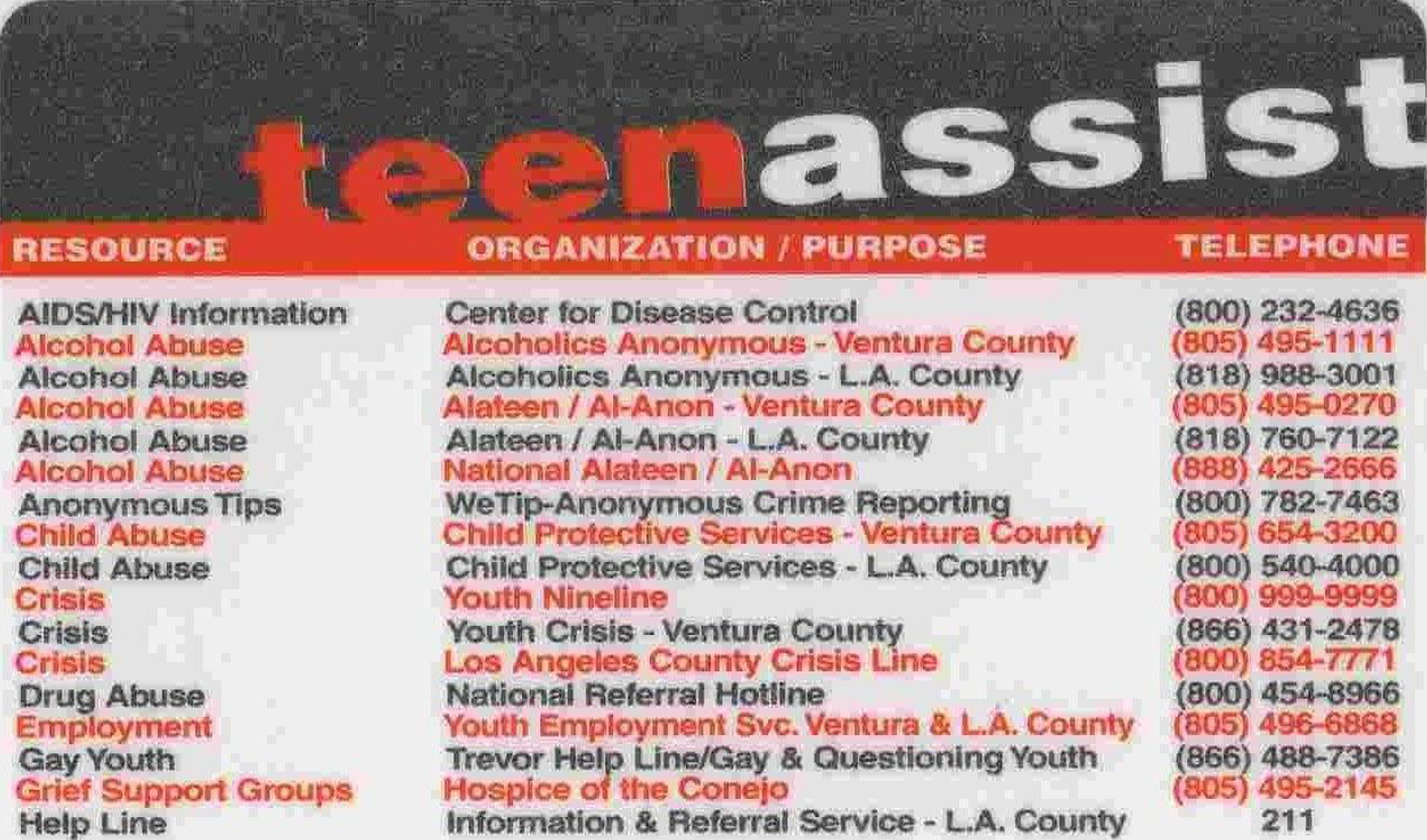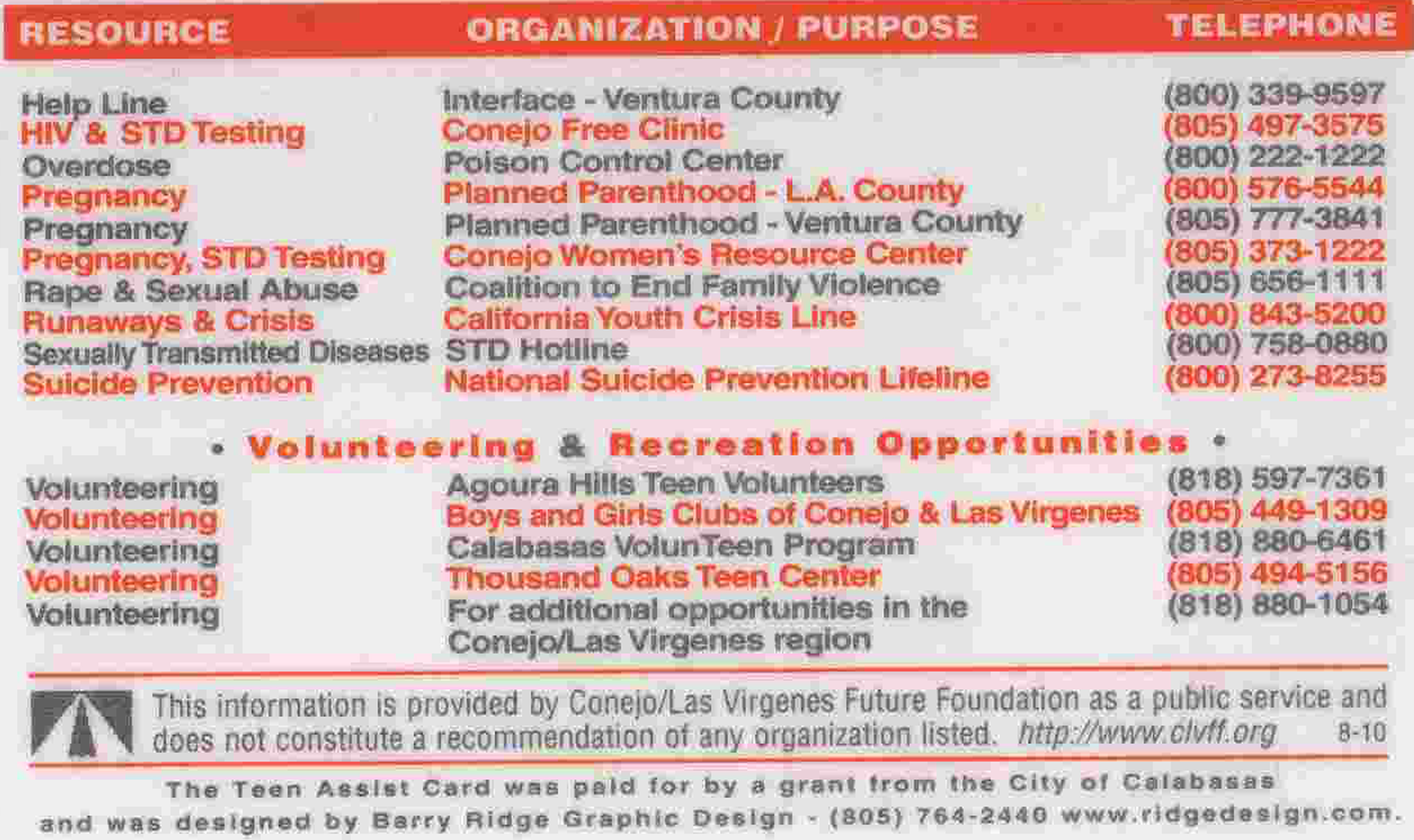 ---
ALCOHOL, DRUGS & TEENS
Principal's Message - November 2007
Over the last few weeks, several of our students have been caught at school in possession of illegal drugs and/or prescription medicines that did not belong to the student. The illegal drugs included marijuana and a variety of various prescription medicines that were either taken from their parents, presumably without their knowledge, or were bought from other students. I would like you to be aware of the growing abuse of prescription medicines in Oak Park and among teenagers nationwide. According to the National Institute of Drug Abuse (NIDA), "The most dramatic increase in new non-medical use of prescription drugs is among 12 to 17 year-olds and 18 to 25 year-olds."
Prescription medicines are intended to treat specific medical conditions. For the millions of patients who use these medicines as prescribed they bring dramatic improvements in health and quality of life, but when abused or misused, many can have significant adverse effects that disrupt rather than improve lives. Increasing parent awareness of this abuse can help reverse this trend. The first step is identifying some of the commonly abused prescription medicines. Although many of these medicines can be abused or misused, the three classes that are most commonly abused are:
Opioids: which are most often prescribed to treat pain and are sometimes referred to as narcotics OxyContin™ (oxycodone), Darvon™ (propoxyphene), Vicodin™ (hydrocodone), Dilaudid™ (hydromorphone), Demerol™ (meperidine), Lomotil™ (diphenoxylate), Morphine and Codeine.

Central nervous system (CNS): depressants, which are used to treat anxiety and sleep disorders:Barbiturates such as Mebaral™ (mephobarbital), Nembutal™ (pentobarbital sodium); and Benzodiazepines such as Valium™ (diazepam), Librium™ (chlordiazepoxide hydrochloride), Xanax™ (alprazolam), Halcion™ (triazolam) and ProSom™ (estazolam).

Stimulants: which are prescribed to treat the sleep disorder narcolepsy, attention-deficit hyperactivity disorder (ADHD), and obesity:Dexedrine™ (dextroamphetamine), Ritalin™ (methylphenidate), and Meridia™ (sibutramine hydrochloride monohydrate).
I urge you to discuss the important and troubling issue of illegal drug, prescription medicine and alcohol use with your child. You can be the most compelling influence in this equation. Do not underestimate your ability to connect with your child in a profound way. I invite you to contact me with your thoughts and concerns so that I can share them with our staff as we continue to look for ways to keep our students safe. We will continue to use candor and sensitivity as we drive home the message that we will not tolerate any of our students using illegal drugs or abusing prescription medicines on campus or at school sponsored events.
Please read on. The article by Diana Traficante, an active member of our PFC, which describes "Alcopops," an alcoholic beverage that can be confused with an energy drink. Her article underscores the important role parents play in keeping our young people safe.
Lynn McCormack, OPHS Principal
---
" ALCOPOPS"
Alcoholic Energy Drinks – New Fuel to the Underage Drinking Epidemic
Look Closely, Labels are Similar to Regular Energy Drinks!
"Alcopops", according to Chris Albrecht of the state's Alcoholic Beverage Control (ABC) office in Ventura County, is the new term that describes energy drinks mixed with alcohol. Their consumption by minors is a growing concern. Now being sold at local grocery and convenience stores in Ventura County, these alcoholic beverages are often placed near the traditional (non-alcoholic) energy drinks. Worse, they often feature similar packaging and are marked as alcohol only by small phrases on the label such as "malt beverage" or "alc/vol." This is a serious matter. Imagine a worker on a lunch break or a college student dashing into a store to buy an energy drink to get him or her "through" the afternoon. If they purchase one of these poorly labeled energy drinks that contain alcohol and take a big swig on their way back to the car, they will now be driving impaired. Now think about your child, knowingly or unknowingly purchasing one of these energy drinks and the effect it might have on his/her daily activities. The result could be devastating. Your child could be in the classroom, driving, or playing sports while impaired. What if the impaired child was not your child, but the one on the bottom row of a cheerleading pyramid, or working next to your child in wood shop, or handling chemicals in a group science lab activity? Think about it…
I questioned Mr. Albrecht about how we can prevent these drinks from being sold to our kids. He explained to me that the ABC Act has labeling requirements, but the labels are not always clear. Currently there is legislation in Sacramento requiring the labels of these drinks to more clearly identify the versions that contain alcohol. Energy drinks typically have names that appeal to kids and the alcoholic version is often sold on or near the same shelf as the non-alcoholic energy drink, making it easy to mistake one for the other. Take a quick glance at the photo below, can you discern the alcoholic drinks from the traditional energy drinks?
Technically you do have to be 21 years old to purchase these alcoholic beverages, but frankly, many store owners or clerks are not even aware that these "alcopops" contain high levels of alcohol, so the drinks are easily obtained by children and teens. A store owner or employee would be liable and sanctioned if they sold these drinks to underage consumers. The ABC has a "minor decoy program" which monitors the selling practices of alcohol by store owners. If you suspect a store owner is selling alcohol of any kind to teens, please call and report your suspicions to Mr. Albrecht at the Alcohol Beverage Control office at (805) 289-0002.
Diana Traficante, PFC President
---
Helpful and Informative Websites on Underage Drinking
"Schools Use Breathalyzers to Fight Teen Drinking"
USA Today, October 16, 2007. A recent "call to action" effort against student
drinking.
www.usatoday.com/news/nation/2007-10-15-Breathalyzer_N.htm?csp=34&loc=interstitialskip
Alcopops – New Report by The Marin Institute: www.marininstitute.org/alcopops/energy_drink_report.htm
Teen Drinking Public Service Announcements (PSA)
featured online for parents. Click on any of the "Know About It" or "Talk About It" photos/topics.
Note: this link works best when viewed in Internet Explorer.
http://web.venturacountystar.com/special/2007/06/teendrinking/teendrinking.html
---
Reality Parties for Parents
Recently, Oak Park High School's PFC, along with Straight Up Ventura County, sponsored a
Reality Party
. Reality Parties for Parents increase awareness and understanding of the dangerous culture of local teen drinking parties. If you haven't attended a Reality Party yet, take a few minutes to watch the three-minute promo video created by Straight Up Youth. You can also see two local news segments about these events. Visit the Straight Up You Tube channel where six video pieces by or about Straight Up are available. Note that two Oak Park students participated in a recent Reality Party and are prominent in the video.
http://youtube.com/straightupvc

Straight Up Ventura County
Straight Up is a youth development project that promotes social change regarding underage and binge drinking among 15 to 25 year olds in Ventura County using improvisation and interactive performance/workshops with engaging discussion, exploration of issues, and the development of personal and community solutions to these problems. Check it out.
Straight Up is a project of Ventura County Limits, and is made possible through funding from the Ventura County Behavioral Health Department Alcohol and Drug Prevention
Division.
To make a Reality Part reservation contact Katherine Boring at katherine@straightupvc.org
Visit us online at: www.straightupvc.org
2346 Wildcat Ave., Ventura, CA 93003
(805) 647-4622
Copyright 2007 by Straight Up Ventura County - All Rights Reserved.
---
Ventura County Limits
Ventura County is embarking on a bold new countywide initiative to reduce underage and binge drinking. This is in response to growing public concern over the impact of alcohol on the lives of young people, and the alarming rates of binge-level drinking in the 15 to 25 age group in Ventura County. Learn more about this Community Partnership for Responsible Alcohol Policies & Practices.
For more information go to: www.venturacountylimits.org